Products received for the purpose of inclusion in this article
Mothers day already?! Are you sure? This year is flying by!
If you are on the lookout for a special gift for your Mum/Stepmum/Mum in Law/Enthusiastic neighbour or even Gran, then this is exactly where you need to be.
Although it's true that a Mothers love is (usually, watch it kids…) unconditional, and we would rather you didn't struggle, we do still like a nice present – who doesn't! Especially me. If you are one of my offspring, take notes…
For the Mum with a little one
Are Mummies scared of monsters? There's a noisy monster under Alexander's bed. Baby T's monster has a rumbling tummy. Daddy has monstrous problems at work. And Mummy's sister finds monsters in a faraway place. But what about Mummy? Join Alexander in his latest colourful quest to find the answer to the puzzling question, Are Mummies scared of monsters?
Inspired by the style of Eric Carle and Lauren Child, Are Mummies Scared of Monsters follows Alexander on a quirky, colourful new quest, perfect for curious little ones with a playful sense of humour. This book would make a lovely gift for Mums of little ones.
For the Mum on the go
Most Mums love music and what gift could be better than the opportunity to listen to her favourite music or podcasts while on the go?
Edifier X3 TO-U earbuds achieved a perfect balance between premium sound quality and compact design. Qualcomm chipset provides strong capability with Bluetooth 5.0 while Apt X audio technology delivers CD-class sound quality. CVC 8.0 noise cancelation removes the background noise and transmits clearer voice. IP55 dustproof & waterproof design is perfect for outdoor activities. 8+16 hours of playtime and other technology like one-step pairing and tap control make it a perfect companion of yours.
If your mum is making an effort to be more sustainable then perhaps she'd appreciate some reusable period pants. Modibodi have a huge range of styles and absorbencies to choose from. We love the Classic Full Brief Everyday Bundle which is a lovely set with a mix of plain and brightly coloured underwear. There are so many on the site to choose from as well as some fab swimwear too!
Everyone needs to be organised
Boutique Gifts specialise in personalised gifts suitable for all occasions, including bags, jewellery, stationery and hampers. Many of their products are produced in their inhouse workshop based in Nottinghamshire.
As a lover of stationery I think this is a fabulous gift. This Parker gift box includes an exclusive design magenta Parker A5 notebook and Parker Jotter ball pen. The notebook has 96 lined sheets on cream paper, and ribbon marker. The pen has been personalised and engraved. Practical and thoughtful all at the same time.
The Mum who has it all
If you're struggling to find a gift, how about an experience for mum? Buyagift have hundreds to choose from on their website. You simply purchase the gift experience and can send this via email to them or you can receive it in a lovely box which includes the voucher and gift it to them in person.
I thought that this Murder Mystery break for 2 would make an excellent present – and if you are lucky enough she might even take you!
The far away Mum
Who doesn't love an afternoon tea? Even better if you can have it delivered to your door! This Afternoon tea hamper combines all the luxury of going for afternoon tea in the comfort of your own home. The hamper is packed to the brim with tasty quintessentially English themed treats and comes with a gift card which can be personalised with a short message
Contains:
Original Cake Company Cherry & Almond Slab Cake 200g
Cartwright & Butler English Afternoon Tea 10's
Frank's Vanilla Shortbread 180g
Fine Cheese Co Elegant & English Strawberries & Cream Biscuits 125g
Mrs Darlington Strawberry Jam
Danny's Lumpy Road Chocolate
For the practical Mum
Give mum the most useful gift around this Mother's Day with CLCKR's multi-functional phone stand and grip. CLCKR handily holds your device in different viewing positions so it is useful for the gym, reading recipies whilst cooking, watching your favourite shows, etc. Available in a range of colours and patterns.
Chin Chin
Why not get your Mum her favourite tipple? Bring Me Drink have a massive amount of choice on their website, including a ready made bottle of my favourite – a long island iced tea!
So convenient and at great prices, there really is something for everyone. My tip would be to grab the Aperol Spritz set..
Enjoying Italy's favourite cocktail has never been so convenient. This kit contains a 35cl bottle of Aperol & a 37.5cl bottle of prosecco – all you need is your favourite glass and a slice of orange to garnish. Before you know it, you've made an Aperol Spritz! This kit also looks fantastic in it's signature orange design so it would make a perfect gift for any Aperol lover in your life.
Fentimans are the home of botanical brewing and their tonic water and mixers are exquisitely crafted to ensure each flavour is the perfect partner for your spirit. This Rose Lemonade is wonderfully fresh, perfect for you to enjoy with your mum this Mother's Day.
They also have a range of cocktail recipes for alcoholic or non-alcoholic cocktails which can be found here
Pocket money prices
Jewellery doesn't have to break the budget to be special! This beautiful necklace from Amazon – Handmade Mothers retails at just £5.99 but has a lovely look and feel to it. The wax melts smell gorgeous and their scent lasts for ages – a steal at £5.79
I would be very pleased if one of my kids bought something so thoughtful. There are so many pocket money friendly gifts to be found there, make sure you check it out!
For the comfy Mum
There is something wonderful about loungewear. Pretty Polly are a brand which has been around for certainly as long as I remember but did you know that these days they do more than just tights?
Pretty Polly's Eco-Wear collection makes the perfect gift for the eco-conscious receiver due to their sustainable range of hosiery, seam-free underwear and leggings made from the first biodegradable polyamide in the world.
Renowned for being a trailblazer within the hosiery and underwear industry, the brand has been celebrated as being the one-stop shop for all hosiery needs and boasts a broad denier offering of 20-200. In addition to hosiery, Pretty Polly also stocks loungewear, lingerie, and underwear with Prices ranging from £6 to £35 and a lovely collection to choose from. – You'll be sure to find something for mum!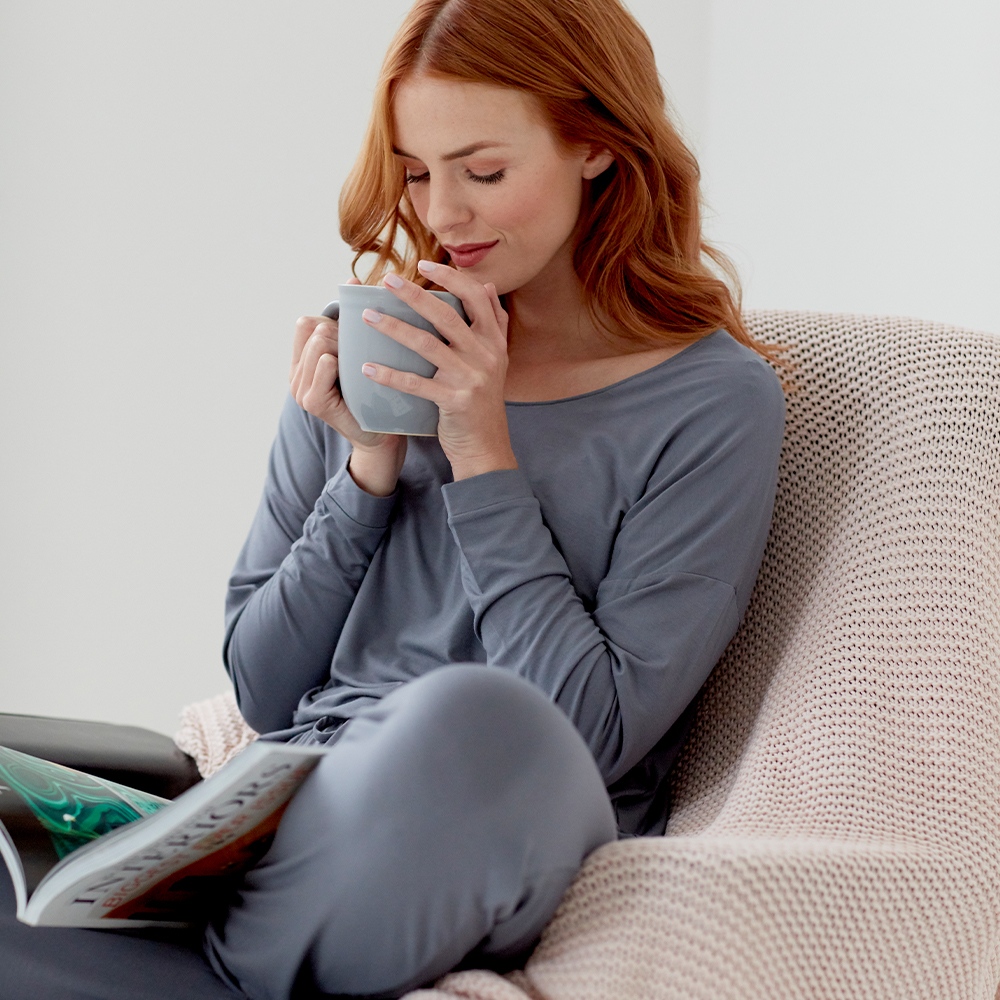 What would Mums do without gin? For those of us who have completed the whole of the plain gin range and are now ready for an upgrade, thankfully, there are solutions! This trio pack of MOM gin comes in 3 delightfully fresh sounding flavours and is a very affordable £11 from Amazon.
God save the gin!
This is a perfect solution for those who are a bit stumped…
Simply select your budget, share a few preferences of the lady in question as well as your note, and the Wellbeing Sisters whisk away and craft a personalised gift box just for them!
Continuing with the theme of being toxin-free, this bundle is all wrapped up and sent complete with a handwritten gift note.
Few things beat the personal touch…and it's not cheating to seek help from those in the know!
Available directly from the Wellbeing Sisters
Sustainable gifting
I'm now a complete convert when it comes to reusable sanitary products and love the selection and comfort of Trade to Aid Reusable Sanitary Pads, who also have a mission behind their products.
Period poverty is a real issue, affecting over 500 million women world-wide. It keeps girls out of school and the workplace. Trade to Aid want to end period poverty and provide women and girls in refugee camps with sanitary products to support them on their periods.
For every pack of pads you buy from Trade To Aid, they give a free pack to someone in need in a refugee camp. They also support menstrual education programmes for young people in West Africa.
I was kindly sent one of the Trade to Aid Reusable Sanitary Pad packs. This retails at £29.97.
The pack includes:
Two light flow pads
Two medium flow pads
Two heavy flow pads
One waterproof wet bag
For the keep fit Mum
Maybe your mum is an avid fitness enthusiast but doesn't always have the time to go to the gym? This ab roller home workout kit is the perfect gift for them! The gym isn't always an option and with our mums always running around looking after others, perhaps you'd like to give them a gift so that they can easily take care of themselves!
This home workout kit from Amonax is a great way to always keep on track with working out. The kit includes the UK's number 1 abdominal wheel which helps the user train their abdominals effectively and is a robust way to build their abs. It contains an extendable skipping rope is a must for burning calories and has a great feature that allows the user to adjust the length easily!
This handy workout kit also contains non-slip push-up bars which make it perfect for training arms and shoulders. The bars are at a 15-degree angle, protecting the wrist from any unwanted strain and maximizing work-out efficiency. Perfect for those wanting to get back into a gym routine!
Pamper her
If your mum deserves a touch of luxury and relaxation this Mother's Day, why not treat her to one of ARRAN Sense of Scotland's Hand or Body care gift sets. Available in ARRAN's bestselling fragrances, Glenashdale, an uplifting blend of grapefruit and vetiver, and Glen Rosa, a soothing blend of fig and ylang ylang. These beautifully packaged sets are guaranteed to impress. £30 each.
Something Yummy
You cannot miss when it comes to Mums and baked goods. These strawberry & cream ripple cupcakes from Send Them Cupcakes are absolutely gorgeous and what's more they can be personalised and delivered to your door – or your Mums! Minimum effort, maximum result!
Vanilla sponge cupcakes hand decorated with a fusion of strawberry and vanilla frosting blended together to create a ripple effect frosted design that tastes amazing too. A striking cerise pink disc is hand written in white chocolate for Mum, while a selection of hand cut hearts and flowers are used to decorate the remaining cupcakes The perfect gift for mum.